The department has a warm reception with a play area to comfort and alleviate anxiety and fear in children regarding Pediatric Dentistry.  The department has a separate UG and PG clinic and is equipped with fully loaded dental chairs necessary for total patient care. Giving utmost importance to sterilization, strict protocols are maintained to achieve this, along with proper biomedical waste segregation. An air-conditioned seminar room is available for student's academic presentation, and health education.
To enhance total patient care, the department is well equipped with diagnostic instruments, teaching-learning, and research equipment. As a means of Preventive Dentistry, a separate counseling room is available for providing anticipatory guidance for both parents and children for prevention of caries, oral habits and trauma.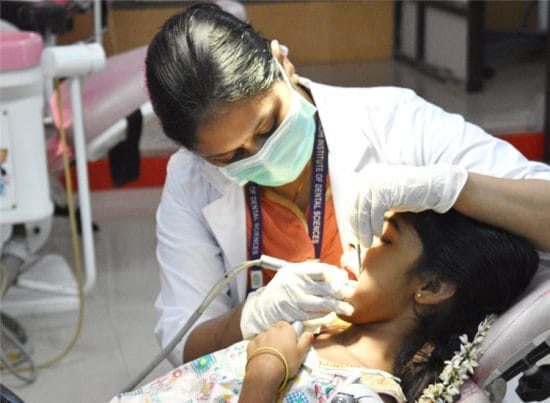 The department has separate undergraduate and postgraduate laboratories to do lab work. The department is equipped with a phantom head lab, portable dental unit, hydro solder unit, pressure moulding machine, state of the art learning equipments such as Rotary endodontic instruments, Apex locater, Electrocautery, Endomotor, Intraoral camera, Injectable Gutta-percha, Pulp tester, Pulp oximeter, Magnifying loupes, major diagnostic instruments such as RVG, X-ray machine and viewer, computer, scanner and printer with Internet connection. To enhance and improve students' knowledge, we have a department library with a repository of specialty textbooks, E-journals with password, reference books, library dissertations and dissertations from other Universities. There are well-furnished faculty rooms.
Treatment services offered is wide and consists of  Preventive Dentistry and anticipatory guidance, Preventive and Interceptive Orthodontic procedures, Endodontic procedures, Pediatric Restorative Procedures, Management of trauma, Special care dentistry, laser-assisted dentistry and hospital dentistry with minor oral surgical procedures. Faculty, UG and PG students conduct research on thrust areas such as Early childhood caries, Children with special health care needs, Herbs, Interdisciplinary projects – Yoga, Epidemiological studies and Behaviour management. The department has organized CDE programs and hands-on workshops, thereby encouraging students to participate in the same, and has organized quiz and inter-college competitions for students. The department also commemorates important national/international days to promote awareness among patients and the public. The department has its own museum with models and posters on display for the students for easy understanding of concepts.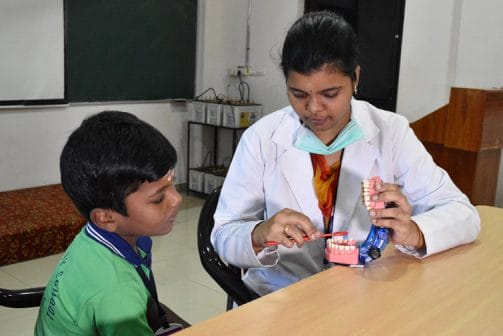 To provide comprehensive oral health care for all children including those with special health care needs and to provide quality education and promote research in Pediatric Dentistry
To promote oral health through preventive oral services and parent counseling
To intercept and manage oral diseases in children at an early stage
To manage a childs behaviour and instill a positive dental attitude in children and parents
To effectively and efficiently manage children with special health care needs
To train students to achieve a high ethical standard of practice
To educate and conduct quality research in Pediatric Dentistry