Brief Description of the Department
Department deals with reconstruction and rehabilitation of the partially and fully edentulous patients, patients with maxillofacial defects and management of missing teeth with implants.
The department has an undergraduate clinic in the old dental college block on the second floor. Furnished with 34 dental chairs, the undergraduates can perform their cases under the supervision of the faculties in the department. Removable partial dentures, Removable Complete dentures, and fixed partial denture treatment facilities can be used by the patients.
This laboratory is for the undergraduate students, to have a hands-on laboratory experience on dummy models before they actually operate on patients. Furnished with a seating capacity of 119 and individual gas connection and compressor lines and electrical connection, the students work under the supervision of faculties. The Dry-lab has lathes and trimming facilities and the wet lab has model trimmers operated in wet condition and acrylics to process dentures and a provision to manipulate dental materials for the fabrication of casts, models and dentures in wet conditions.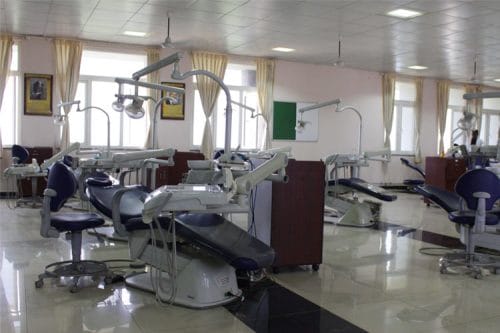 The Postgraduate clinic is situated on the first floor of the new dental college block. The PG clinic has 19 dental chairs on which the postgraduates can operate. The interns can also perform advanced procedures and assist the postgraduates in their procedures. High ended treatment like Fixed Partial Denture Prosthodontics, Maxillofacial Prosthodontics, TMJ appliances, and Full mouth rehabilitation can be performed under the guidance of Senior faculties. The postgraduate clinic has a wet and dry lab facility attached to enable the students to perform laboratory procedures for the patients.
Hi-Tech Prosthodontic Lab and Research Centre
This is a unique facility from the institute and of course, a feather in the hat, which can provide in-house laboratory facility for the fabrication of crowns, bridges, cast partial dentures, and other metal, metal ceramic and ceramic work. Surgical guides and splints can also be fabricated with the state of art equipment. Some of the equipment to mention are the ceramic furnaces, casting machines, pressure pot, high-speed lathe with suction, pinsetter, die cutter, pressure molding system, sandblaster, steam cleaner etc. The postgraduates are trained with the demonstration by experienced faculties and technicians in the fabrication of the above-mentioned prosthesis. The availability of Stereomicroscope has driven the laboratory personnel to work towards precision.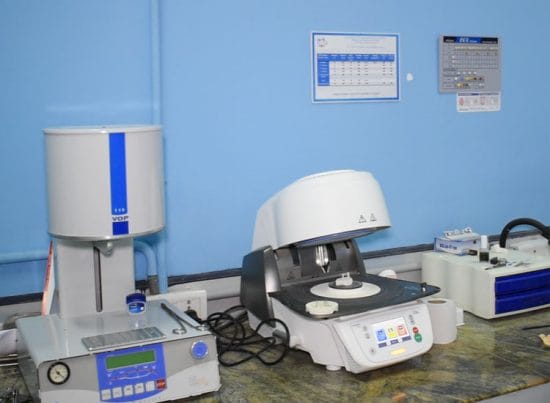 Crowns, Fixed partial dentures, Cast partial dentures, post and core, removable complete dentures, Implantprosthesis, Maxillofacial-prosthesis, Precisionattachments, Splints and stents.