The department is equipped with highly trained and experienced faculties from various prestigious universities across India. The faculties are dedicated to the academic progression of students and achieve excellence. We build academic knowledge and clinical confidence among students in managing any given case. The students are trained to diagnose and manage patients with common dental and orofacial disorders, oral mucosal lesions, salivary gland disorders, TMJ disorders, Psychosomatic disorders, oral cancer, patients with systemic diseases etc.
The students are trained to perform chair side investigations, biopsy, etc. In Maxillofacial Radiology Department, the students are trained to interpret intraoral radiographs, extra oral radiographs, panoramic radiograph, and TMJ views. The students are also trained in advanced imaging like cone beam computed tomography, computed tomography, magnetic resonance imaging, ultrasonography, Positron emission tomography, radionuclide imaging, sialography and various advanced imaging modalities. Students are trained to use the CBCT software and tools in virtual implant placement.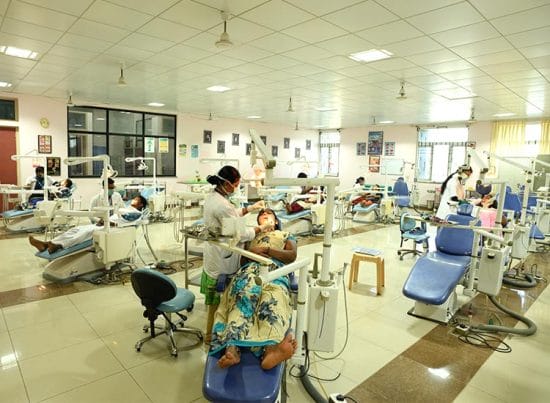 The Oral Medicine and Radiology Department, Indira Gandhi Institute of Dental Sciences, Sri Balaji Vidyapeeth, operate with the following goals.
To train students in achieving expertise in the clinical diagnosis and manage various oral and maxillofacial conditions like orofacial pain, salivary gland disorders, temporomandibular disorders, oral cancer, patients with systemic diseases, psychosomatic disorders, etc.
To train students in understanding the concepts of basic and advanced imaging in the head and neck region and making them competent to interpret maxillofacial radiographs, CT, PET CT, MRI, USG, etc.
To diagnose, evaluate and manage oral mucosal lesions, potentially malignant disorders, orofacial pain conditions, oral cancer, TMJ and salivary gland disorders, a patient's with oral manifestations of systemic diseases and medically compromised individuals.
To be proficient in the history taking, clinical examination, interpretation of laboratory and radiographic examinations for diagnosing orofacial and systemic disorders.
To practice expertise in the pharmacologic management of patients with dental and orofacial conditions.
To know the principle and practice of intraoral and extraoral advanced imaging.
To practice evidence-based preventive care and treatment regimens in the management of orofacial disorders.
To train postgraduate students in applied basic sciences, research methodology, study designs, and biostatistics and conduct research of clinical relevance.
To generate critical thinking in clinical evaluation and evaluation of scientific literature.
To organize and conduct epidemiological studies and dental screening camps.