Conservative Dentistry is the subject that deals with the art and science of the diagnosis, treatment, and prognosis of defects of teeth which do not require full coverage restorations for correction; such treatment should result in the restoration of proper tooth form, function and aesthetics while maintaining the physiological integrity of the teeth in harmonious relationship with adjacent hard and soft tissues; all of which enhance the general health and welfare of the patient.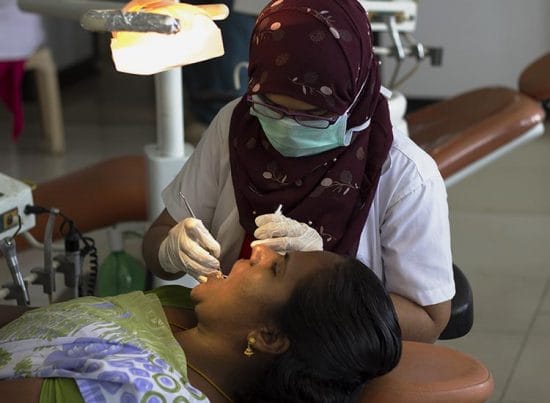 The Goal of the undergraduate curriculum in this subject to impart knowledge regarding,
The basic biology, pathophysiology and clinical presentation of the carious and non-carious diseases.

The planning of treatment protocols based on the finding from various diagnostic tools.

The understanding of the instruments, equipment and the materials that are needed to restore the lost tooth structure.

Execution of the treatment plan using various restorative modalities and materials based on minimal invasive philosophy.

The recognition and identification of caries risk individuals using caries risk assessment protocols and institutional diseases and preventive measures as the main part of treatment option.
The main objective of the field of Conservative dentistry and endodontics is to identify the disease involving the dental and pulpal and peri-apical structures and to manage them and thus to restore the health and functionality of the dentition.
The department apart from focusing on these key objectives will contribute to the subject of cardiology, through the clinical cardiology as well as through the proposed research ion dental caries concepts.
The department is conducting research on Herbal medicine intervention for the prevention of caries. This will contribute to the existing weak evidence on the Herbal medicine in dentistry.
To implement the biological management of dental caries as opposed to traditional mechanical management by using
The ICDAS system of classifying and detecting care.
The non-operative interventions to control and manage caries.
To comprehensively assess the patient with caries risk assessment and make a tailor-made treatment plan for the best oral health outcome.
To encourage research facility within the department on Cardiology.
To introduce caries simulated models in physical or in a virtual way for preclinical students to shift from mechanical based training to biological training.
To assess the capacity of the student in a comprehensive treatment planning and execution of the treatment.
To introduce the student into a Young Scientists Program by which the untapped potential of the students can be enhanced and encouraged in the Research field.
To encourage the students to participate in National Level conferences.
To bring out the departmental newsletter for internal circulation edited by students and the staff.
To encourage CAL – computer-assisted learning in our specialty and to computerize and network the working units.
On the whole, top evolve into a department with excellence in education and patient service.